Budget Transparency Reporting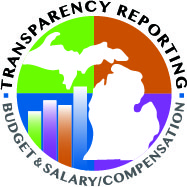 Transparency Reporting
MI School Data Link

Audited Financial Statements

2021-2022 Audited Financial Statements
Board Approved Budgets

2022-2023 Final General Fund Budget


2023-2024 General Fund Budget
Personnel Expenditures: Pie Chart

2021-2022 General Fund Personnel Expenditures
Current Operating Expenditures: Pie Chart

2021-2022 General Fund Operating Expenditures
Current Collective Bargaining Agreements
SESPA - Sparta Educational Support Personnel Association Contract 2022-2025
Employer Sponsored Health Care Plans
Staff Insurance

Employee Assistance Program
TEACHERS
SUPPORT
NON-UNION
Bids required under Section 5 of Public Employee Health Benefits Act, 2007, PA 106, MCL 124.75
Our district participates with the Western Michigan Health Insurance Pool.
Employee Compensation Information
District Paid Association Dues
District Paid Lobbying Costs
The district did not incur any District Paid Lobbying Costs for the fiscal year ending June 2021.
District Procurement Policy and Credit Card Information
Out of State Travel Information
District Debt Obligations
State Approved Deficit Elimination Plan
The district is not in deficit and is not required to have such a plan.
Educator Evaluation Systems Postings and Assurances
TEACHER EVALUATION


5D+ Teacher Evaluation System Guidelines Revised 2018-19
ADMINISTRATOR EVALUATION


Administrator Evaluation
2021-2022 Benchmarck Assessment System Requirements in PA 48



21-22 Education Goals K-8


21-22 Education Goals 9-12

Check Register Archives
To view check registers please contact the Sparta Area Schools Administration Offices 616 887-8253