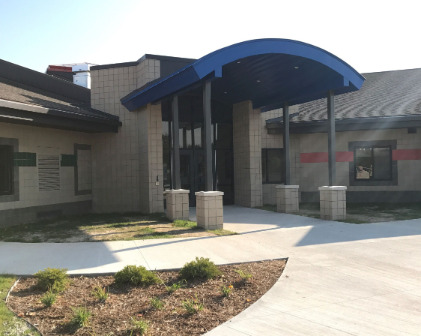 Ridgeview (K - 2nd)
Kindergarten Information
Please follow the steps below to register for Kindergarten for the 2023/24 school year.
Step One: Use the enrollment link and enroll. You will start by filling out the Pre-Registration form on the enrollment page. Enrollment Page Link (If you have a preschooler at the Early Childhood Center you do need to do this step.)
Step Two: This step is ONLY for kids that do NOT attend the Early Childhood Center for Preschool. All ECC Preschool students will be screened by their Preschool Teacher.
Please email Ralyne Barrett to schedule a screening time.
Step Three: Review the slideshow that was shared with families at Ridgeview Round Up giving more information about DK, Kindergarten, registration, and more. Ridgeview Round Up Slide Show Link.
If you have any questions please call the Ridgeview office at 616-887-8218 or email Ralyne Barrett.
Welcome to Ridgeview Elementary!
Ridgeview Elementary is a Kindergarten thru 2nd grade learning community that serves approximately 600 students within Sparta Area Schools. Our mission is to provide high quality educational opportunities to ensure success for all. Our core principles include; cultivating a culture of respectful relationships, focus on effective instruction, utilize a data driven decision making model and expecting excellence in all we do. It is our desire that through our core principles we will accomplish our vision targets, which include; differentiating learning opportunities to meet individual needs in order to increase student achievement across all performance levels.
One of our greatest strengths at Ridgeview is the commitment to early literacy by providing a Balanced Literacy learning environment. The emphasis in our building is establishing a strong foundation in literacy and mathematical practices in conjunction with a love of learning within a safe, orderly, and caring environment. We are dedicated to serving our students and families as we provide a foundational learning experience.
Not only do our students receive the academic support they need; but also the skills necessary to be successful in all walks of life. All within our Ridgeview family model being safe, kind, responsible, and respectful. Positive behaviors are modeled and built through intentional teaching of expected behaviors. Our staff is committed to working through an active partnership with parents and the community to help the students achieve personal success.
Our goal is that every family at Ridgeview Elementary experiences a caring and engaging environment where each feels welcome and encouraged to flourish. We look forward to the shared partnership and commitment to our Ridgeview community each day!
Calendar
Calendar

Previous

December

2023

Next

S
M
T
W
T
F
S
1
2
3
4
5
6

Dec 6

6:00 PM to 7:30 PM

Youth Boys Basketball -Mis

Location:

560 W. Spartan Dr. Sparta, MI 49345

Calendar:

Ridgeview Elementary

https://spartaschools.gofmx.com/scheduling/requests/2605879/occurrences/6018435

7
8
9
10
11

Dec 11

6:00 PM to 7:30 PM

Youth Boys Basketball -Mis

Location:

560 W. Spartan Dr. Sparta, MI 49345

Calendar:

Ridgeview Elementary

https://spartaschools.gofmx.com/scheduling/requests/2605879/occurrences/6018436

12
13

Dec 13

6:00 PM to 7:30 PM

Youth Boys Basketball -Mis

Location:

560 W. Spartan Dr. Sparta, MI 49345

Calendar:

Ridgeview Elementary

https://spartaschools.gofmx.com/scheduling/requests/2605879/occurrences/6018437

14
15
16
17
18

Dec 18

6:00 PM to 7:30 PM

Youth Boys Basketball -Mis

Location:

560 W. Spartan Dr. Sparta, MI 49345

Calendar:

Ridgeview Elementary

https://spartaschools.gofmx.com/scheduling/requests/2605879/occurrences/6018438

19
20

Dec 20

6:00 PM to 7:30 PM

Youth Boys Basketball -Mis

Location:

560 W. Spartan Dr. Sparta, MI 49345

Calendar:

Ridgeview Elementary

https://spartaschools.gofmx.com/scheduling/requests/2605879/occurrences/6018439

21
22
23
24
25

Dec 25

Location:

Admin Board Room, AV Baseball Field, AV Cafeteria, AV Foyer, AV Gym, AV Media Center, AV Music Room

Calendar:

Ridgeview Elementary

https://spartaschools.gofmx.com/scheduling/requests/2605788/occurrences/6018207

26

Dec 26

Location:

Admin Board Room, AV Baseball Field, AV Cafeteria, AV Foyer, AV Gym, AV Media Center, AV Music Room

Calendar:

Ridgeview Elementary

https://spartaschools.gofmx.com/scheduling/requests/2605788/occurrences/6018250

27

Dec 27

6:00 PM to 7:30 PM

Youth Boys Basketball -Mis

Location:

560 W. Spartan Dr. Sparta, MI 49345

Calendar:

Ridgeview Elementary

https://spartaschools.gofmx.com/scheduling/requests/2605879/occurrences/6018441

28
29
30
31