Welcome to Sparta High School, Home of the Spartans!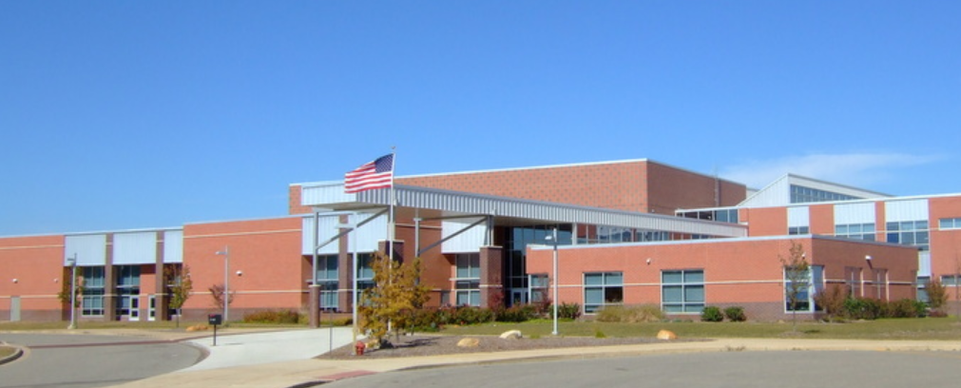 Thank you for visiting our website. Sparta High School is the sole, comprehensive high school in Sparta Area Schools. Our mission is to provide high quality educational opportunities for each of our 850 students, while ensuring each individual student's success. Sparta High School opened a state-of-the-art facility in the fall of 2007, which provides an outstanding learning environment for students and staff. Sparta High School offers over 80 courses in English language arts, mathematics, science, social studies, world languages, career internships, music, art, drama, and physical education.
Sparta High School's Advanced Placement (AP) program continues to grow. Currently, we offer AP courses in Biology, US History, European History, Statistics, Calculus AB, Literature, Language and Composition, and Psychology. Sparta High School also offers numerous honors sections within our four core content areas. In addition, Sparta High School partners with Ferris State University to offer Concurrent Enrollment courses in which students earn college credit for courses taken at Sparta High School.
Sparta is proud of our commitment to our learners who are on the pathway to trade schools and careers. Every year we send well over 100 students to the Kent Career Technical Center, which also offers college credit. In addition we offer a well-articulated career internship program that serves an additional 50 to 60 students.
Sparta High School recognizes the important role that co-curricular involvement plays in the development of our students. We proudly offer over 30 co-curricular programs, while competing in the Michigan Competitive Bands Association and the OK Silver Athletic Conference.
Sparta High School staff is dedicated, compassionate, and committed group of professionals that:
Believe in the power of respectful relationships
Stays focused on student learning
Uses data to drive decisions
Commits to continuous improvement
Go Spartans!
Stacey Rumsey
Principal
Sparta High School

Calendar
Calendar

Previous

September

2023

Next

S
M
T
W
T
F
S
1
2
3
4
5
6
7
8
9
10
11
12
13
14
15
16
17
18
19
20
21
22
23
24
25

Sep 25

2:30 PM to 6:30 PM

Location:

475 W. Spartan Dr. Sparta, MI 49345

Calendar:

Sparta High School

https://spartaschools.gofmx.com/scheduling/requests/2554313/occurrences/5832202

4:00 PM to 7:00 PM

Sparta High School Soccer B V vs KENT CITY HIGH SCHOOL

Location:

475 W. Spartan Dr. Sparta, MI 49345

Calendar:

Sparta High School

https://spartaschools.gofmx.com/scheduling/requests/2460691/occurrences/5642977

6:30 PM to 8:30 PM

Canceled: Boys Basketball Workouts

Location:

475 W. Spartan Dr. Sparta, MI 49345

Calendar:

Sparta High School

https://spartaschools.gofmx.com/scheduling/requests/2557299/occurrences/5918991

6:30 PM to 8:30 PM

Senior Mock Rock Practice

Location:

475 W. Spartan Dr. Sparta, MI 49345

Calendar:

Sparta High School

https://spartaschools.gofmx.com/scheduling/requests/2581910/occurrences/5928645

26

Sep 26

2:45 PM to 5:00 PM

Location:

475 W. Spartan Dr. Sparta, MI 49345

Calendar:

Sparta High School

https://spartaschools.gofmx.com/scheduling/requests/2554882/occurrences/5836871

4:00 PM to 7:00 PM

Location:

475 W. Spartan Dr. Sparta, MI 49345

Calendar:

Sparta High School

https://spartaschools.gofmx.com/scheduling/requests/2585618/occurrences/5943820

6:00 PM to 8:00 PM

Location:

475 W. Spartan Dr. Sparta, MI 49345

Calendar:

Sparta High School

https://spartaschools.gofmx.com/scheduling/requests/2555372/occurrences/5839844

6:00 PM to 8:00 PM

OK Silver Conference Tournament Seeding Meeting

Location:

475 W Spartan Dr

Calendar:

Sparta High School

https://spartaschools.gofmx.com/scheduling/requests/2584762/occurrences/5940667

6:00 PM to 9:00 PM

Percussion & Color Guard Rehearsal

Location:

475 W. Spartan Dr. Sparta, MI 49345

Calendar:

Sparta High School

https://spartaschools.gofmx.com/scheduling/requests/2511858/occurrences/5715746

7:00 PM to 8:00 PM

Canceled: Girls Basketball Workouts

Location:

475 W. Spartan Dr. Sparta, MI 49345

Calendar:

Sparta High School

https://spartaschools.gofmx.com/scheduling/requests/2568228/occurrences/5868595

7:00 PM to 8:30 PM

Sophomore Mock Rock Practice

Location:

475 W. Spartan Dr. Sparta, MI 49345

Calendar:

Sparta High School

https://spartaschools.gofmx.com/scheduling/requests/2581809/occurrences/5928397

27

Sep 27

2:30 PM to 6:30 PM

Location:

475 W. Spartan Dr. Sparta, MI 49345

Calendar:

Sparta High School

https://spartaschools.gofmx.com/scheduling/requests/2554313/occurrences/5832204

2:45 PM to 5:00 PM

Location:

475 W. Spartan Dr. Sparta, MI 49345

Calendar:

Sparta High School

https://spartaschools.gofmx.com/scheduling/requests/2554882/occurrences/5836872

5:00 PM to 8:00 PM

MS Football vs Greenville

Location:

475 W. Spartan Dr. Sparta, MI 49345

Calendar:

Sparta High School

https://spartaschools.gofmx.com/scheduling/requests/2583934/occurrences/5937498

6:00 PM to 8:00 PM

Canceled: Boys Soccer Practice

Location:

475 W. Spartan Dr. Sparta, MI 49345

Calendar:

Sparta High School

https://spartaschools.gofmx.com/scheduling/requests/2555372/occurrences/5839845

6:30 PM to 8:30 PM

Canceled: Boys Basketball Workouts

Location:

475 W. Spartan Dr. Sparta, MI 49345

Calendar:

Sparta High School

https://spartaschools.gofmx.com/scheduling/requests/2557299/occurrences/5918992

7:00 PM to 8:30 PM

Junior Mock Rock Practice

Location:

475 W. Spartan Dr. Sparta, MI 49345

Calendar:

Sparta High School

https://spartaschools.gofmx.com/scheduling/requests/2581815/occurrences/5928443

28

Sep 28

9:00 AM to 3:00 PM

Varsity Tennis Conference Tournament

Location:

475 W. Spartan Dr. Sparta, MI 49345

Calendar:

Sparta High School

https://spartaschools.gofmx.com/scheduling/requests/2583454/occurrences/5934824

2:45 PM to 5:00 PM

Location:

475 W. Spartan Dr. Sparta, MI 49345

Calendar:

Sparta High School

https://spartaschools.gofmx.com/scheduling/requests/2554882/occurrences/5836873

4:00 PM to 8:30 PM

Sparta High School Volleyball G V vs Comstock Park HS/MS

Location:

475 W. Spartan Dr. Sparta, MI 49345

Calendar:

Sparta High School

https://spartaschools.gofmx.com/scheduling/requests/2460592/occurrences/5642878

6:00 PM to 8:00 PM

Location:

475 W. Spartan Dr. Sparta, MI 49345

Calendar:

Sparta High School

https://spartaschools.gofmx.com/scheduling/requests/2555372/occurrences/5839846

29

Sep 29

2:30 PM to 6:30 PM

Location:

475 W. Spartan Dr. Sparta, MI 49345

Calendar:

Sparta High School

https://spartaschools.gofmx.com/scheduling/requests/2554313/occurrences/5832205

4:00 PM to 10:00 PM

Sparta High School Football B V vs Belding HS/MS (Homecoming )

Location:

475 W. Spartan Dr. Sparta, MI 49345

Calendar:

Sparta High School

https://spartaschools.gofmx.com/scheduling/requests/2460686/occurrences/5642972

30

Sep 30

8:00 AM to 4:00 PM

Location:

475 W. Spartan Dr. Sparta, MI 49345

Calendar:

Sparta High School

https://spartaschools.gofmx.com/scheduling/requests/2512150/occurrences/5716503

7:00 PM to 11:00 PM

Location:

475 W. Spartan Dr. Sparta, MI 49345

Calendar:

Sparta High School

https://spartaschools.gofmx.com/scheduling/requests/2536734/occurrences/5777329