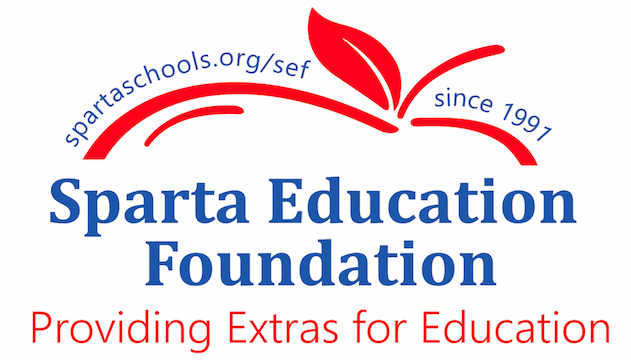 The Sparta Education Foundation was founded in 1991 based on the belief that Sparta students should not be limited to minimum standards due to a lack of state funding for education. Since that time, many students have benefited from SEF funded grants that provide the extras for education, but still the need continues.
The Sparta Education Foundation's mission is to help to provide creative, progressive, and innovative educational opportunities for our students and staff, which are beyond the normal operating budget of the school district.
Please consider making a contribution and give our students important enrichment opportunities that would not be available otherwise. Go to the CONTRIBUTIONS page for details.
The Sparta Education Foundation is governed by a volunteer Board of Directors and operated independently from the Sparta Board of Education under an established set of bylaws.
All questions regarding SEF should be directed to: sef@spartaschools.org.
S.E.F. BOARD OF DIRECTORS 2020-2021:

Julie Anderson, President

Sue Knauf, Vice President

Sue Blackall, Secretary

Ron Hoover, Treasurer

Peter Bush, Ex Officio

Board Members: Michelle Alster, Kristi Armock, Jennifer Baldini, Don Behrenwald, Erin Bormes, Heather Holland, Chris Hoover, Leann Kitson, Martha Markham, Kathy Reed, Laurie Zurek

Associate Members: Marj Brink, Lisa Edwards, Connie Howes, Bob Liscome, Leo Maki, Liz Morse, Bob Schirado, Tena Stuhan, Deb Warwick

Meetings are held at 7:30 a.m. in the Administration Building on the following dates:
(**Please note: Meetings are currently held via Zoom**)
| | | |
| --- | --- | --- |
| | August 12, 2020 | Grant Presentations, deadline for application is Aug. 5 |
| | | |
| | TBD | District All-Staff Meeting |
| | TBD | Staff Pledge Forms Due, please give to Jill in Payroll Office |
| | September 9, 2020 | SEF Board Meeting (via zoom) |
| | October 14, 2020 | Grant Presentations, deadline for application is Sept. 25 |
| | November 11, 2020 | SEF Board Meeting |
| | December 9, 2020 | SEF Board Meeting |
| | January 13, 2021 | SEF Board Meeting |
| | February 10, 2021 | Grant Presentations, deadline for application is Jan. 29 |
| | March 10, 2021 | SEF Board Meeting |
| | April 14, 2021 | SEF Board Meeting |
| | May 12, 2021 | SEF Board Meeting |
| | June 9, 2021 | SEF Board Meeting |
| | July 14, 2021 | Grant Presentations, deadline for application is July 9 |
| | August 11, 2021 | SEF Board Meeting |