2017-18 "FUN"DRAISERS!
RetroBowl at Sparta Lanes - Saturday, March 3, 2018 @ 11:00am and 1:30pm
********************************LANE ASSIGNMENTS (as of 2/27/18)********************************
RetroBowl By Lane RetroBowl AM Names RetroBowl PM Names
***********************************************************************************************************
RetroBowl 2018 Sign Up Front RetroBowl 2018 Sign Up Back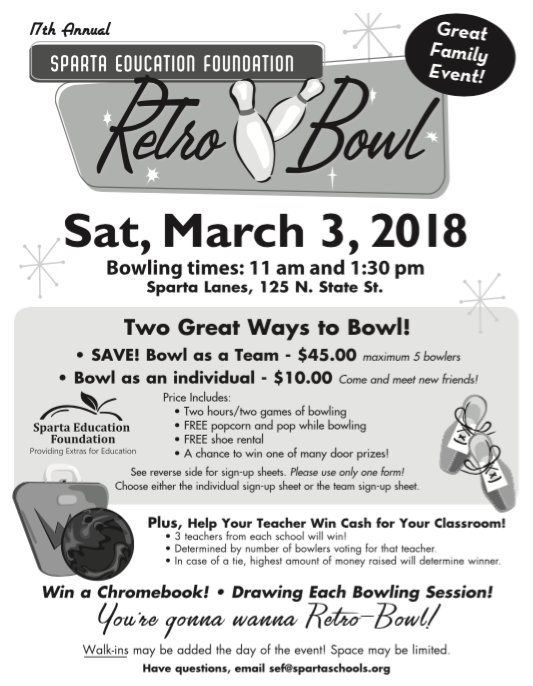 2017-2018 Events:
Fundraiser at Trini's
Tuesday January 16, 2018 @ 5:00pm-close - Watch your Friday folder in January for a flyer that you must present to your server. Trini's will generously donate 10% of all food sales to the SEF. Flyers may be used for take-out orders as well.
Tuesday, April 17, 2018 @ 5:00pm-close
Pasta Night Fun-draiser at the Garden Patch
Monday, February 5th, 2018 @ 4:00-8:00pm - Thanks to those who helped and/or supported the SEF fundraiser at the Garden Patch. Many hands make lighter work, so much appreciation to all. It was steadily busy and we raised nearly $1,600!
Thank you for your support! The Sparta Education Foundation's mission is to help provide creative, progressive and innovative educational opportunities for Sparta Area Schools students K through 12th grade which are beyond the normal operating budget of the school district.
2016-17 "FUN"DRAISERS!
Italian night at the Garden patch
****
Retrobowl 2017
****
25th Anniversary Celebration and Murder Mystery Dinner
The Murder Mystery Dinner and Celebration was held at Sparta Civic Center on October 22, 2016, and had over 100 guests in attendance who had a night full of laughter and mystery with The Murder Mystery Company GR and delicious food provided by the All In One Chef Mark Kingshott.
**Thank you to all who have contributed to SEF, including our sponsors.**
2015-16 "FUN"DRAISERS!
RetroBowl 2016
The 15th Annual RetroBowl at Sparta Lanes was held on March 19, 2016, with two sessions full of bowlers who had a great time, won cool prizes, and helped teachers win "cash for their class." THANK YOU to everyone who participated and contributed to SEF.
We especially appreciate the support of these major sponsors: Armock Mechanical Contractors; Coldwell Banker, Mike Lamb; Callen Engineering; Sparta Tire Service; Sparta Animal Clinic; Knowlton & Masson Dentistry; Premier Auto & Truck Repair; Hessel Cheslek Funeral Home; Dave Cole Decorators, Inc.; Sparta Bowling Lanes; ChoiceOne Mortgage, Nick Lewis; Amore' Trattoria Italiana; Sparta Area Schools; Family Fare; Cascade Die Casting Group; Sparta Chevrolet; Michigan Appraisal
---
Mcteachers' night
THANK YOU to the teachers and McDonalds staff who worked on McTeachers' Night at Sparta McDonald's on February 16, 2016. THANK YOU also to the people who came to eat and support SEF. The tips plus a percentage of sales resulted in a $513 donation to SEF!
---
Food for thought at trinis
THANK YOU TO TRINI, JOE, THEIR STAFF, TEACHER VOLUNTEERS AND DINERS/DONORS who helped SEF raise $2,002 for the "extras for education" at Food for Thought. The annual dinner was held on November 2, 2015.